Here at Mineralissima we are fans of colours as you might have noticed already. And we also love helping you get the most out of your makeup routine, with tips and tricks (see some brow tips here) and this is what we will be discussing today with a focus on blusher and bronzer. Blusher and bronzer can be used all year round, no matter your skin tone. There is an option for everyone and we will help you find it!
Blusher and bronzer can be used all year round, no matter what your skin colour is. There is an option for everyone and we will help you find it!
As for the order of application, apply your bronzer or contour first and then move on to your blusher. Read on for our top bronzer and blusher tips and a selection of colours available at Mineralissima.
Bronzer
Bronzing your face is nothing new. Imagine bronzer as the tan that the sun would create (but then bronzer is the safe option for a summer tan) on your face. You do this on the prominent points, maybe also the tip of the nose or you can even apply a very small amount all over the face.
You can also use a (matte) bronzer to shape or contour your face. Whether you're a fan of contouring or not, it's always good to have a trusted bronzer in your collection.
Bronzer colours
The ideal bronzer colour should be 1 or 2 shades darker than your skin tone, to make it stand out and create some contrast. Check out our handy overview to find out which colour matches your skin tone.
Going for a summery glow? Then our Mineral Bronzer Sunkissed is a great option for fair-skinned people. Our popular bronzer Ibiza is the bestseller for light-medium skintypes. If you have a medium skin, bronzer Samui is always a safe bet.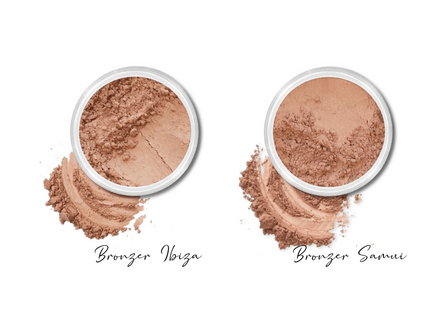 Do you have the desire for optical adjustments on your face? Then use a bronzer without shimmer based on your undertone. For example, natural bronzers Jetsetter and Laguna in compact form are super choices; because they are (semi) matte, they are suitable for both contouring and bronzing.
These lightweight compact powders are suitable for light and medium skin tones and can be layered in intensity.
All the bronzers we develop are free from animal testing, vegan and contain no parabens or chemicals.
Positioning and tips for applying bronzer
You can apply bronzer in a couple of ways, depending on the final look you want.
The 3 shape is a classic trick to figure out where to apply bronzer. A more simple and popular trick is the C-shape; the cheeks combined with the forehead. The earlobe is the starting point. Blend this out along the cheekbone and along the temples towards the forehead. This will give you the most natural bronzing look.
Insider tip: If you want a daily make-up look without looking too tired (a 'no make-up look'), you can apply a little bronzer to your eyelids with a fluffy eyeshadow brush. This will give you a nice natural shadow look.
The best make-up brush
For a more defined contour, the best brush to use when applying bronzer is the Inclined Bronzer/Contour brush. For a lighter, more airy look, choose the Fluffy Powder Brush.
The application
Using the bristles of your brush, pick up a small amount of the bronzer from the lid. Start with a little powder, because 'a little bit goes a long way'. Apply it to the desired areas and layer as needed to build up colour intensity.
Feel free to watch our user tip video on applying mineral bronzer.
Blusher
Did you know that you only need three things to look more awake in the morning?
Mascara, 2. some highlighting in the inner corner of your eye and 3. yes -you guessed it- blusher!
A pink (or orange) pop on your cheeks gives a fresh look to your face and makes you look more awake.
Blusher gives us a healthy and younger look. Get that fresh, energetic look that you can't achieve with (only) a bronzer. It is a great item to have in your make-up bag. A little touch on your cheeks will easily bring life back to your face.
Remember, our blushers are free from bismuth, nanoparticles, fragrances, cruelty and parabens.
Blusher colours
As you can see, we have a nice collection of blusher colours that are suitable for different skin tones. So you'll easily be able to pick a colour that suits you, no matter what you're looking for!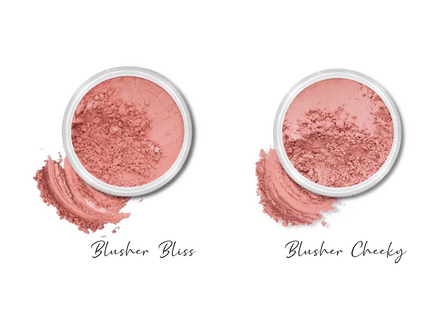 Depending on your complexion and undertone, there is a beautiful selection available for you to choose from. The fresh colour of Mineral Blusher Cheeky is very popular for light-medium skin tones. With Bliss blusher, almost anyone can get on with it. And for our fans of compact blushers, you have the choice of the 2 colours Dollface and Hello dolly which are easy to use and build up nicely in colour intensity.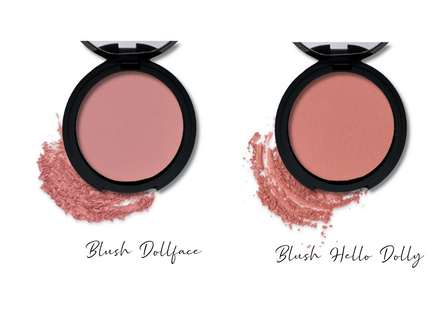 Placement and tips for applying blush
When it comes to application, the most classic tip you've probably heard is to smile and apply the blusher to the prominent part of our cheeks, but that's not the only way. The placement is important because it changes how your face looks and it can really make or break your make-up look.
You can, of course, apply it directly to the apple of the cheek by looking straight into the mirror. Smile if you are unsure, but you can also find the position when your face is at rest. Remember to always make an upward movement towards your temples or ears when applying.
This creates a younger, fresher, lifted look. Try it out!
You can even apply a little blusher to the tip of your nose for a playful, youthful look.
The tips on blush placement given here apply to all face shapes. But if your face shape is long, apply the blusher horizontally over the cheekbones to balance it out and create width in the middle of the face.
The best make-up brush
When it comes to the best brush, there are a few options. The mineral powder brush, is a good option for applying the mineral blushers. For a more defined blush colour, we recommend the Blush brush, after which the most beautiful, natural result can be achieved by blending with our kabuki brush.

The application
Because the mineral powders are super pigmented, you only need a small amount of the blush powder. We recommend you to shake the jar, closed with the black cap, and use the powder that remains in the lid. Dab the bristles of your chosen blush brush lightly into the powder and you can start applying it to your face.
What is your favourite blush or bronzer tip? We hope you enjoyed these tips and tricks and check out the rest of our mineral makeup range here.