Eyes may be the window to the soul, but you need a good frame to support them, which is where good brows come in. Brows frame your face and change your face in a matter of seconds and here at Mineralissima we want to help you achieve the perfect (for you) brow shape when using makeup, so we will be taking you through the different ways you can shape and draw on your brows so that they are always on fleek!
Let's quickly talk about brow shape; thin or thick, fluffy or structured, whatever brow shape you naturally have, the products you use must enhance it. It's okay if your brows aren't as full as you'd like, because this is where we come in to help out.
A thing to remember, you can always add more product, it's a bit harder to remove it though! This of course depends on the method and product of choice. When choosing the colour of the product, try and pick something a little lighter than your brow hair colour, so that it blends in properly and seamlessly.
THE TOOLS YOU NEED TO EXPERTLY SHAPE AND DRAW YOUR EYEBROWS
• A great brush, like our eyebrow brush specifically created for powder and mineral products. Our customers love this brush for their brows, as it helps them achieve the perfect shape every time with minimal effort.
 • Spoolie or old (clean) mascara wand or get our eyelash brush, to brush up brows before, during and after you apply your product of choice. This is basically like your trusty blending brush that you need when doing your face makeup.
• Eyebrow setting product; there are many nowadays suiting all different kind of needs. You can use a clear gel, a coloured/tinted gel and even soap! If you are intrigued by the soap method, read more about it below.
HOW TO SHAPE YOUR BROWS
Before we take you through all the ways to achieve the perfect brow shape using the different products, it's essential to start with a good base. In this case, a clean brow shape to suit your face and characteristics. If you get your brows done professionally, chances are you already have a pretty good understanding of your ideal shape. If you normally do them on your own though, read our tips to tweezing your brows to perfection.
First, ensure your brows and tweezers are clean and don't have any product on them. If you are scared of getting your brows done on your own, you can get our eyebrow stencil to get an idea of your perfect shape. Before you start removing stray hairs, it's important to see what is actually stray and what has to stay.
Take a pencil/pen and a brow pencil, start by holding it on the side of each nostril to see where your brow should start and mark it lightly with your brow pencil. Then move the pencil/pen to connect your nostril, across your eye and on your brow – this is where your arch should be. Finally move the pencil/pen slightly from the previous point, to see where your brow should end. This is a general trick of finding the perfect shape for you, but you might have different preferences (eg. a straighter arch) and that's okay!
It's very important to remember: even one brow hair can change the whole brow shape, so it's better to start slow than removing more than you should! Start from the centre of the brows first and then underneath. We recommend not removing any hair from the bottom part at the front of the brow, as this is better left to expert hands!
THE PRODUCTS YOU NEED FOR THE PERFECT EYEBROW SHAPE EYEBROW PENCIL
EYEBROW PENCIL
Eyebrow pencil is probably the easiest way to shape your brows especially as a beginner. Start using the lightest hand and create small hair-like strokes that go upwards. We recommend trying it out on the back of your hand first, if you are a complete beginner, so you can get a better feel for the product.
Once you are confident with your little hair-like strokes, brush your brow hair up with your spoolie or eyelash brush and draw in the sparse areas of your brows starting from the front. Hold the eyebrow pencil at an angle almost parallel to your skin, so that you don't apply more pressure than needed. Remember a light hand is extremely important when drawing your brows.
Our Eyebrow pencil comes in three shades; light, medium and dark and it's soft but firm. Choose your colour by matching it to your hair colour; light is suitable for light blonde, medium is great for dark blonde and light brown hair and dark is for medium to dark brown hair.
EYEBROW POWDER
As a mineral cosmetics brand, powders are our specialty, our eyebrow powder is long-lasting and not messy. It's nearly impossible to use this the wrong way! Of course, it's a vegan, mineral formula that's been carefully pressed down to a powder for ease of use.
To shape your brows using the eyebrow powder, brush your brows up and then take the slanted eyebrow brush, dip lightly in the powder and slowly draw in hair-like strokes in an upward motion. Start from the front of the brow and move slowly to the end. Brush your brows again to blend the powder in seamlessly and you are done! You can then add a setting product of choice if needed.
Our eyebrow powder comes in three shades to match your hair colour; light for light to medium blonde hair, medium is a taupe shade suitable for light to medium brown hair and dark is a darker espresso colour for dark brown and black hair. Remember to always choose a shade lighter than your brow hair to ensure the colour blends in nicely and looks natural.
POWDER BROWS
The Define Eyebrow powder is our hero product when it comes to eyebrow shape, we have perfected our vegan, cruelty-free, mineral formula over the years and this is evidently our hero brow product. This is also the best option if you prefer a more natural, lightly defined eyebrow look as the super fine powder blends in your brow hair smoothly.
To shape your brows using the brow powder, brush up your brows and take the slanted eyebrow brush, pour very little powder out on the cap of the product and dip your brush in. With light movements, fill out any sparse areas as required.
This product comes in four shades, the light is for blondes and mousy brown hair, the medium is perfect for brown hair and the dark is suitable for darker hair and darker skin tones. We also have a black one if your hair is black, which is a special 2-in-1 product; it can be used as an eyeliner too. Just take some of the powder using a damp eyeliner brush and slowly draw on your cat-eye flicks.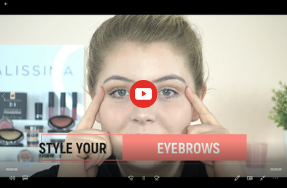 SOAP BROWS
Soap can be used to set brows no matter what product you're using to draw them and shape them. All you need is a clear bar of soap, something that's almost transparent. A favourite among the beauty community is the Pears' soap.
Then take your spoolie or eyelash brush, wet it with a bit of water or setting spray and pick up some of the soap, enough to coat the brush. Start brushing your brows upwards or to the side, depending on the desired final look. Once you find the shape you want, with your finger 'push' the brow up into place to secure and ensure it stays as long as possible.
You can use the soap brows technique before or after you fill in your brows. It's suitable for all brow shapes and the perfect technique if you want to achieve the 'fluffy' brow, beautifully undone, but stays in place!